Wine Club
From our decades of experience working in the food and wine industries and traveling to wine growing regions throughout the world, we've determined that natural wines offer the purest expression of terroir.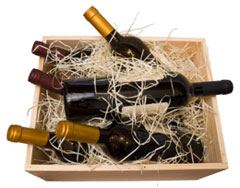 Natural winegrowers choose to farm their grapes and make their wines following time-honored traditions. They believe that spending more time working in the vineyard and less time tinkering in the winery results in wines that taste better. Join us as we explore the rarefied world of natural wines through our Wine of the Month Club. We will deliver two carefully selected, artisanally produced wines to your door along with our detailed notes on the vineyards and the people behind them. In addition, we will include a recipe for a food pairing to match with your PureVineWines.
PureVineWines make a great gift, too. Thank your best customers or treat your loved ones with the monthly gift of hard-to-find wines with character.
Please note that for the standard 2-bottle order, we charge prices between $40 and $60 dollars per month, depending on the wines we feature, plus shipping.
We are also available during normal business hours if you would prefer to complete this over the phone.
Your message was sent successfully! We will be in touch as soon as possible.
Something went wrong! Try refreshing and submitting the form again.
---
If at any time you wish to cancel your wine club membership, you can give us a call or email us and we will remove you immediately.